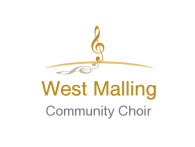 Did you know that West Malling has a community choir? It was formed in February 2012 for a six week trial and was so successful that the singers all voted to carry on and become a permanent fixture. We are open to new members at any time and welcome anyone who would like to have a go at singing. Have you ever watched Gareth Malone on TV and wished there was something similar that you could join? Well now there is!
We meet most Tuesday evenings in the Baptist Church hall in West Malling from 7.15pm to 8.45pm.
There are no auditions, you don't have to be able to read music and there are no embarrassing solos!
The cost is £2 per session to cover costs of music and things but under 18's are free.
No need to book, just come along and give us your details on the night, join in and have some fun.
So - what are you waiting for?
Join us at 7.15pm on Tuesdays at The Baptist Church Hall, Swan Street, West Malling, Kent ME19 6RD and look out for details of our next concert.
For more information email us at westmallingcc@hotmail.co.uk or check out the website at http://www.westmallingcommunitychoir.co.uk, and on facebook